he's finally here!
Thursday, March 15, 2007
ROLAND THOMAS PELAYO ESGUERRA III
"TREY"
Born on March 5, 2007
at 1:40pm
Asian Hospital and Medical Center
Weighing 6 lbs 2 oz
Measuring 51 cms

mrs. schmuck | 9:49 AM |

how awful am i?!
Wednesday, August 23, 2006
Updating this blog seems to be becoming a monthly thing for me. Bad blogger! Bad blogger! I really should post here more often, and I'm sorry I haven't. So many things have happened, and now I don't know where the hell to start.
Ok. As of today, I am 13 weeks and 3 days pregnant already. Passed the first trimester, and Peanut is doing good. Yay!!! The first trimester wasn't as bad as how I've seen or read others to have experienced it. I hardly had any morning sickness, although there are a few times when a certain smell just makes me gag. I know that is something that I should be thankful for. And believe me, I am!
I guess you could say that the biggest thing about my pregnancy now is that I have gestational diabetes. Yep. What normally would've been a possible occurrence on a woman's 25th to 28th week of pregnancy has become a reality for me at 2 months. When I went for my first prenatal checkup with my OB, she had asked for my history, of course. Since my dad is diabetic, she had asked me to go for an oral glucose challenge test. Dang, I hate that test! That orange drink they make you take is real icky. Obviously, I "failed" the challenge test, which prompted my OB to refer me to an endocrinologist. Then my endocrinologist made me go through an oral glucose tolerance test this time. That was worse! More of that icky orange drink, but I had to fast the day before and I had to stay in the hospital for 3 hours because they had to take my blood every hour. Terrible, terrible, terrible! And again, obviously, I "failed" that test too. Well, I didn't do THAT bad. I failed 2 out of the 4 blood tests, and of the two I failed, I only missed the mark by a point or two. Until today, I'm not sure whether that's good, or if that totally sucked.
Anyhoo, to make a long story short, I have a mild case of gestational diabetes. I'm on a strict diet which does not include any sugar. Aaack!!! No cake, no candy, no muffins, no chocolate. For a time, I've also had to check my blood sugar before every meal and an hour every after -- which meant I had to prick my finger 6 times a day. When my endocrinologist was quite satisfied that I was sticking to my diet religiously, I'm now down to pricking my finger 3 times a day. Ah, the simple pleasures in life. LOL! So there. It sucks, really. But looking at the big picture, it's a teeny tiny small price to pay for our Peanut.
We went for our monthly checkup last Saturday, and everything's pretty good. We tried to check for Peanut's heartbeat using that Doppler device, but we weren't able to find it yet. I was worried for a bit, but our OB assured us that it wasn't unusual not to hear it on the 3rd month, and she promised that we would hear it in our next monthly checkup. I was thinking of having an ultrasound just to be sure that Peanut's ok, but Mr. S convinced me not to worry too much and to have faith on our doctor's assurances.
I haven't been able to scrap as much as I'd like, and it bums me out sometimes. I did manage to turn in my kits for
RAKScraps
(which I will have to show you guys soon) and do my sponsor layouts and article for the August newsletter (which is awesome, by the way! LOL!). But I do have some photos of Chloe and stuff I want to make for Peanut's album that I can't seem to find the time for. I'm not allowed to scrap at night when I get home from work (Mr. S is turning into a real nag! LOL!!!), so that leaves the weekend. But then there are doctor's appointments, trainings that I have to run (yes, on weekends!), and what seems to be my never-ending lethargicness. In fact, I recently just made one of the hardest decisions I've had to do. Because of so many things happening right now, I had to step down from
Robin's
creative team. I absolutely loooved working with her designs and she is such a super person, and it really broke my heart to leave.
So right now, I've really just been concentrating on keeping myself and Peanut healthy, putting in my hours at work, and of course, RAKScraps. I can't totally be without digiscrapping, ya know, and RAKScraps is home for me and so that has to stay. Some things are just non negotiable. LOL!
Ok, it's almost snooze time for me. I will leave you with one page I did manage to finish for Peanut's album. Ciao, bellas!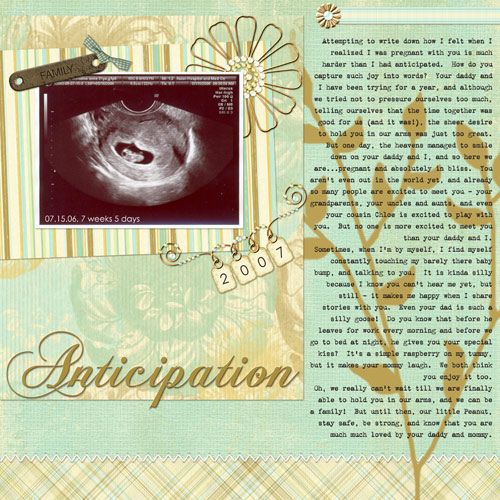 Credits:
Robin Carlton and Paula Duncan's Creme de Menthe kit at SSD; metal plate and green gingham bow by Katie Pertiet at DD; stitching by Ronna Penner
Font: ChopinScript, VT Portable Remington
Journaling reads: Attempting to write down how I felt when I realized I was pregnant with you is much harder than I had anticipated. How do you capture such joy into words? Your daddy and I have been trying for a year, and although we tried not to pressure ourselves too much, telling ourselves that the time together was good for us (and it was!), the sheer desire to hold you in our arms was just too great. But one day, the heavens managed to smile down on your daddy and I, and so here we are...pregnant and absolutely in bliss. You aren't even out in the world yet, and already so many people are excited to meet you - your grandparents, your uncles and aunts, and even your cousin Chloe is excited to play with you. But no one is more excited to meet you than your daddy and I.
Sometimes, when I'm by myself, I find myself constantly touching my barely there baby bump, and talking to you. It is kinda silly because I know you can't hear me yet, but still - it makes me happy when I share stories with you. Even your dad is such a silly goose! Do you know that before he leaves for work every morning and before we go to bed at night, he gives you your special kiss? It's a simple raspberry on my tummy, but it makes your mommy laugh. We both think you enjoy it too.
Oh, we really can't wait till we are finally able to hold you in our arms, and we can be a family! But until then, our little Peanut, stay safe, be strong, and know that you are much much loved by your daddy and mommy.
mrs. schmuck | 9:24 PM |

at last, time to post!
Wednesday, July 19, 2006
I don't even know where to begin. I think saying THANK YOU to everyone who left their well wishes in my previous post is a good start. You guys are just the sweetest, and all your messages just gave me the warm fuzzies. Thank you! Thank you!
Remember my grandfolks' diamond wedding anniversary? It was on the same night that we found out. And T-Wan, if you're reading this...No, I didn't sing. LOL!!! I managed to get myself out of that sticky situation. My mom ended up being too busy organizing everything, and I had asked a good friend to sing instead.
Things have been sooo amazing since we found out we were pregnant. I was on Day 40 of my cycle when we finally decided to take an EPT. My cycle is really wierd, and with my longest cycle at 39 days, I figured that Day 40 would be THE day to take the test. I didn't really think I was pregnant, but of course, as each day passed, I couldn't help but keep hoping. But I didn't really feel any different, and I still had PMS -- cramps, tender b00bs, etc. I was also really stressed that week, and I figured that's the cause of the deley.
Anyhoo, it turned out to be the day of my grandfolks' wedding anniversary. It was also the day before Mr. S left for the US for some work stuff. Might as well know what's going on before he leaves. On the way home from the wedding, Mr. S and I passed by the drugstore where I told him to buy 3 packs. LOL!!! Hell, I wanted to be sure I did it correctly! We told ourselves that we would do it when we woke up the next day, since I read that it was best to use first morning urine to test. But when we got home, I was so restless. I mean, I had the EPT in my hand!!! It was like getting a birthday gift a week before your birthday. You just HAVE TO open the gift! And so we decided to take the test that night.
I remember reading the instructions over and over again. I had all the stuff I needed to do the test. With a final squeeze of the hand, Mr. S sent me off to the bathroom to do my thing. I remember entering the bathroom with a little bit of trepidation and a little bit of excitement. And when finally, two pink lines appeared, I went blank. Two lines??? What did two lines mean?!?! LOL!!! And when I finally emerged from the bathroom, Mr. S was waiting for me with an expectant look on his face. And to finally say "We're pregnant!"....was just bliss. Ok, so after that, I was squealing like a pig, but that's hardly romantic, so I'm leaving that out of my story. LOL!!!!
After getting a positive on our ept, I didn't feel any different at all and it was hard to believe I actually was pregnant. I had no morning sickness at all. My b00bs hardly felt tender. Oh, but I was
extremely
sleepy all the time. When all you have are two pink lines to prove you're pregnant, and especially when you want it SOOOO bad, sometimes you tend to doubt, you know? I mean, what if the ept was wrong? But when we went for our first TV ultrasound last July 16 and finally saw OUR BABY, there was no denying it. We were truly pregnant. *sigh* God is good.
You want to see our little Peanut?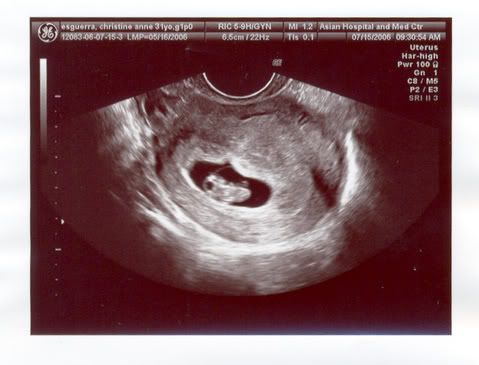 Isn't he a cutie? And doesn't he look like me? LOL!!! I keep telling Mr. S that he has my nose. And of course, Mr. S keeps telling me I'm brain-damaged. LOL!!!! We call him Peanut, because he's about as big as a peanut in his first baby pics. And if you noticed, I keep saying he or him or his. We're hoping for a boy, but will be happy with any healthy baby that is given to us. But it wouldn't hurt to give little hints eh? LOL!
I've also been blessed that Mr. S is such a sweet and supportive tub of lard. If I was spoiled before, I am even more so now. HARHARHARHARHAR!!! About two weeks ago, I felt like eating green mangoes and told him so, and without even blinking an eye, he went out at 8pm to get me some. Last week, I felt like eating guavas, and when I got home from work, I already had two. Yesterday, I was watching the telly and saw this lady eating a hotdog sandwich, so I said I wanted one. And sure enough, he went out and got me a Jolly hotdog. Then when I woke up this morning, I told him I wanted McDonald's big breakfast, and off he went to get it for me. Is he the sweetest or what?!?! Of course, he tells me I'm a spoiled pregnant woman, and I keep telling him he has more than 6 months to go. LOL!!! But he's even sweeter when he talks to Peanut. Ok, so he is talking to my barely there baby bump, but the thought is sweet. And so he does say silly stuff like how he hopes Peanut doesn't get his mom's fat ass, but yeah....it is sweet. Dysfunctional maybe, but sweet nonetheless.
If there is one thing I can and will complain about, it is that I have been forbidden to wear my purty, purty shoes. As you guys know, I loooove my shoes. But all my shoes have practically 3-inch high heels. Since finding out we were pregnant, everyone (and I mean, EVERY ONE!) has been giving me the third degree about my shoes. And so now, all my beeeeyoootiful shoes are in storage. *sniff* *sniff* Ok, so I did get to go shoe shopping (I have no flats at all!) but do you know how "fun" it is to shop for flats?!?! It's as exciting as a loaf of bread, I tell ya. I was able to buy 3 flats, and they will have to do for the next 6-7 months.
Before I go, I'd like to share a page I finally finished. It's my first baby page, and I'm so excited because it will go into a baby album that I'm making for Peanut. Again, many many thanks to everyone who sent their well wishes, and I will try and continue to update you on Peanut's growth. Hmmm...I may have to change Peanut's name as we go farther along on this pregnancy too. LOL!!!
Ciao, bellas!!!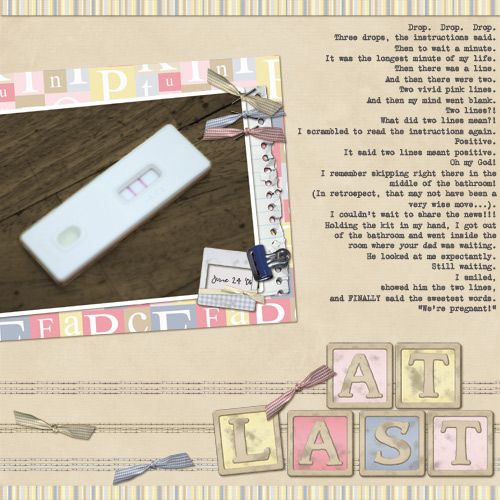 Credits:
ABC Baby from Robin Carlton & Christy Lyle's Expecting Sweet Stuff collection at SSD
binder clip by Katie Pertiet at DD, notebook paper by Tia Bennett at DD, staples by SP
Font: VT Portable Remington
mrs. schmuck | 7:07 PM |

i'm alive
and celebrating life!
Sunday, July 16, 2006
More news to come! Mr. S is nagging me away from the puter. LOL!!!
mrs. schmuck | 11:50 AM |

yummy post!
Tuesday, June 13, 2006
I had just come from
Melinda's blog
where she posted two recipe cards. Yum, yum, yummm!!! I was able to join the nightowls chat yesterday at
RAKScraps
since it was a holiday here, and Melinda and I agreed to share our recipes of scrumptuous homemade goodies! I am going to have to try that banana choco chip cookie recipe she shared. Gosh, my mouth is watering just thinking about it. LOL! If you're already as hungry as I am, head on over to her blog to grab the recipe cards.
And as promised, I'm sharing mine as well. I have two recipes to share. The first one is for lemon poppyseed loaf. I remember finding the recipe on the net maybe 5 years ago, and loved it when I baked it. Can't remember where I found it though, and I can't even find it when I Google'd it. Anyhoo, I did make some modifications to it because I didn't want it too sweet. And I also took out the glaze. And I cut down a little on the vegetable oil. During the holiday season, I sell baked goodies and this is one of my bestsellers!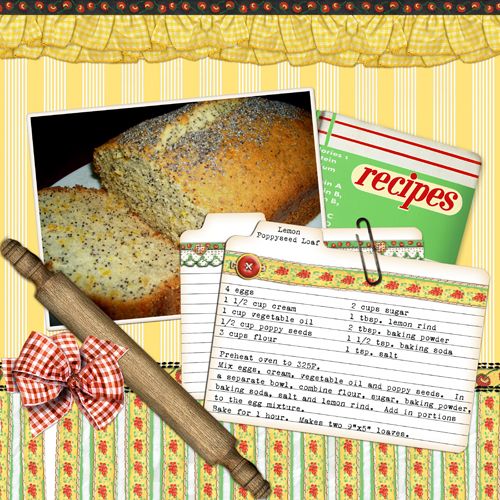 Credits:
everything from Mo Jackson's Dorothy's Kitchen
Font: VT Portable Remington
Then this next one is a coffee choco chip cookie recipe a dear friend of mine shared with me. I did put a teeny tiny bit more coffee, and it just gives off that perfect aroma when it's baking. We had a few more leftover from the weekend since Chloe wasn't allowed to eat the cookies with coffee. She did manage to practically finish the entire jar of oatmeal choco chip! LOL! Anyhoo, I took these photos today, and I used a more graphic style to the layout to complement the photo.
And yes, I took that bite on the cookie. LOL!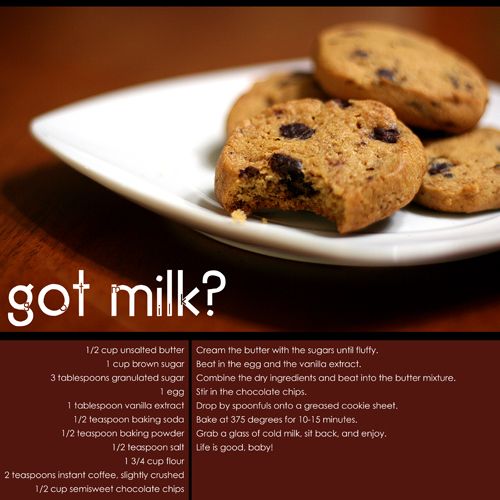 Credits:
Fonts are Century Gothic and 2peas Rubber Ducky
I uploaded the full 300dpi layouts (and credits) in yousendit in case you guys want a copy. Here's the
link
. And enjoy the deeeeliciousness!!!
By the way, I'm now going to have to revamp the blog. I guess a lot more of you are getting the fuzzy weirdo fonts. Oh well. I'll set up a mirror blog where I'll fiddle with the template so that when it's all set, I just have to transfer it so there's none of that awkward phase where my blog looks like a
real
bucket of crap - no "S" there! LOL!!!
Ok, so I guess that's it for tonight. Ciao, bellas!
mrs. schmuck | 10:45 PM |

breathing freely now
Monday, June 12, 2006

I am so pleased with myself I could chortle like a babe. LOL!!! I have been extremely busy the past few days, like I told you, but I finished all that I had to do and I met all my deadlines. Woot! Woot!

I managed to finish 3 layouts for the RAKScraps sponsors which will go in the June newsletter. I managed to finish the layout for the Your Photo 5 Ways winner this month. I managed to finish my June mega kit contribution. I managed to write up my article for the newsletter. AND AND AND!!! I even managed to scrap 2 pages today for a secret little project that I have no business telling you about. LOL!

The frustrating thing about it is that I can't even show anyone what I've done. Thank goodness the RAKScraps newsletter is coming out in a few days, so at least I get to share the layouts I've done that will appear there. Whew. But then I also still have a few things I need to do, but I have at least until the end of the month to finish them.

Oh, I have a question for ya. I got comments from Mrs.Miles and t-wan that the font on my blog is hard to read. How many of you have this problem? Yikes! The strange thing is that it looks ok on my puter, and it looks ok on Mr. S's laptop and puter, and it also looks ok on my puter in the office. But then I tried it last night on my brother's laptop and the fonts do look wierd. Ack!!! I'm probably going to have to change my blog template if that's the case. Although I know a teeny bit about html (I did fix up this blog and my 2 previous blogs), it's just such a pain to go through it again. Crap. Anyhoo, maybe a makeover is what I need eh?

My grandfolks wedding is in less than 2 weeks. I haven't even fitted my dress yet, and I really hope it looks ok. I hope the dressmaker was able to put in the magic b00bs I requested. LOL!!! My mom has been convincing me to sing a song for my grandfolks during the reception. Hellooooo?!?! Is she crazy?! I gotta admit that I like to sing, but any singing I do is pretty much confined within the four walls of our bathroom. Or within the confines of my car. In front of about 200 people?! Insane, I tell ya.

The day after the wedding, Mr. S leaves for the US. He'll be gone for almost 2 weeks, and I'm bummed out. I really don't like it when he leaves. The other night, I asked Mr. S if he was excited about leaving. He said he was, and I was teasing him about being happy that I would be thousands of miles apart. Actually, he's just happy because he gets to live the hotel life and he gets to go shopping. LOL! He'll be there until the 4th of July, and I know that there are good sales then. Woohoo! I'm already thinking of stuff he can buy for me. Oh, and he also brings home my brand spanking new laptop!!! YAY!!! I'm trying to find a really purrrty and girly laptop bag to go with it too. Gotta look snazzy carrying it around, ya know? LOL!

Alright, that's it for tonight, bellas. It's back to work tomorrow for me, and gotta be there early. I hope y'all had a fab weekend! Ciao!
mrs. schmuck | 10:04 PM |

wanted: breathing space
Wednesday, June 07, 2006
Just popping in for a quick hello. And to at least let you guys know that I'm alive. Too much to do and so little time. Been there, done that eh? Yeah, well as it turns out, you may have been there and have done that, but you will often find yourself there again and doing it all over again too.
Work's been busy (like, when did that change?!), but life outside of work's been just as busy too. I have quite a number of things due for
RAKScraps
, and so I've been trying to make a dent on that. So far, I've made a very teeny tiny dent. LOL!!! And I haven't even started on my June mega kit contribution which is supposed to be due by the 11th. Yikes! I hope
Kim
, the whip-cracker, isn't reading this...LOL!!! I swear, I'm going to tie myself to my puter chair this weekend and work on it. And I still have to do my article for June's newsletter. Ack!!!
I did manage to make a page just for the sake of fun (and sanity...)! I spent quite a bit of time on this layout. I think I went through so many color schemes before finally being happy with the one I chose. But now that it's done, I'm happy. LOL!!!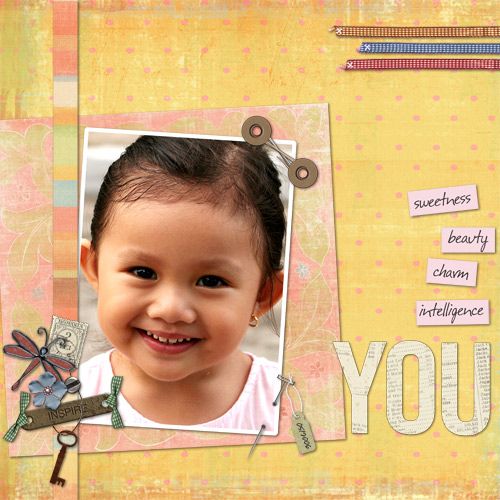 Credits:
all papers from Jen Wilson's Sweet Candy (Worn Comfort collection) at SBB; vintage stamp, metal plate, gingham ribbons/bows, tie fasteners and catalogue alphas - all by Katie Pertiet at DesignerDigitals; tie and key by Jackie Eckles at DesignerDigitals; flower from Bears Blossom N Beads by Christy Lyle at SSD; screw by Ashley Olson; dragonfly from Bellissima kit by Carrie Stephens; pin and tag by Gina Cabrera from DWD cd
Font: Festus
Ok, my popping's done. I'm gonna catch some Zzzzs now. I hope your week is going great, bellas. Smile!!!
mrs. schmuck | 11:32 PM |