wanted: breathing space
Wednesday, June 07, 2006
Just popping in for a quick hello. And to at least let you guys know that I'm alive. Too much to do and so little time. Been there, done that eh? Yeah, well as it turns out, you may have been there and have done that, but you will often find yourself there again and doing it all over again too.
Work's been busy (like, when did that change?!), but life outside of work's been just as busy too. I have quite a number of things due for
RAKScraps
, and so I've been trying to make a dent on that. So far, I've made a very teeny tiny dent. LOL!!! And I haven't even started on my June mega kit contribution which is supposed to be due by the 11th. Yikes! I hope
Kim
, the whip-cracker, isn't reading this...LOL!!! I swear, I'm going to tie myself to my puter chair this weekend and work on it. And I still have to do my article for June's newsletter. Ack!!!
I did manage to make a page just for the sake of fun (and sanity...)! I spent quite a bit of time on this layout. I think I went through so many color schemes before finally being happy with the one I chose. But now that it's done, I'm happy. LOL!!!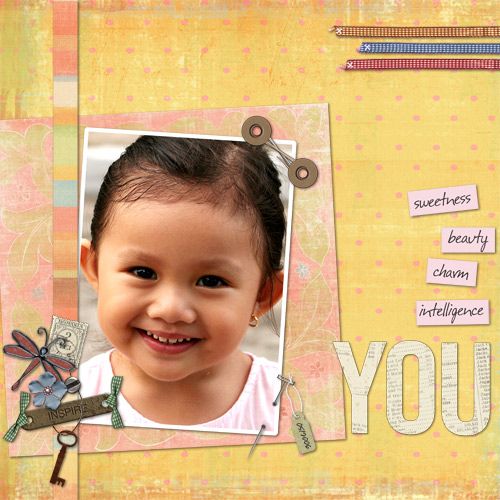 Credits:
all papers from Jen Wilson's Sweet Candy (Worn Comfort collection) at SBB; vintage stamp, metal plate, gingham ribbons/bows, tie fasteners and catalogue alphas - all by Katie Pertiet at DesignerDigitals; tie and key by Jackie Eckles at DesignerDigitals; flower from Bears Blossom N Beads by Christy Lyle at SSD; screw by Ashley Olson; dragonfly from Bellissima kit by Carrie Stephens; pin and tag by Gina Cabrera from DWD cd
Font: Festus
Ok, my popping's done. I'm gonna catch some Zzzzs now. I hope your week is going great, bellas. Smile!!!