a change of style...of sorts
Sunday, May 28, 2006
Guess who's back in the scrapping saddle again?!?! LOL!!! I have been productive, I tell ya. I'm so happy with the pages I've cranked out the past few days AND I finished (and love!) my June prize kit for
RAKScraps
. Woot! Woot! Ok, now before I start showing you what I've done, lemme just blabber on for a few more moments.
This week's going to be a killer at work, I reckon. I feel like I have ten million deliverables due, and I'm just all over the place...dazed and confused. I also have a business review with our director on Tuesday from 3pm-6pm. Three whole freaking hours!!! Dang, just the thought is enough to get my large intestines all twisted up. Now we know that just isn't good!
On the homefront, Mr. S and I had planned on watching a movie last Saturday night. We haven't watched The Da Vinci Code yet, and I was pleasantly surprised when chubby-hubs said we'd go. He rarely wants to get out of the house on weekends, and I'm always the one dragging him away from his puter. What a nerd. LOL!!! Anyhoo, we checked the schedules and decided on watching the 7pm show. We got to the movie house about ten minutes before, then they told us that the 7pm was sold out, and they were selling tickets only for the 10pm show. WTF?!?! So we decided to have dinner at Friday's first. But then after eating what seemed like a truckload of french fries, and with still 2 hours to go before showtime, we decided to head on home. LOL!!! Hey, we tried!
We had lunch at my in laws today. It was my dad-in-law's birthday last Thursday, and my mom-in-law's today so there was a joint celeb. It was so fun because Mr. S's baby sister planned a surprise costume party. My mom-in-law loooves to watch local and Korean soaps, so we were supposed to dress as any character from her favorite soaps. LOL!!! Let me just tell you, it was a hoot!!! I didn't bring my camera so I don't have photos to show, but I know my sisters-in-law took some so I'll have to get copies.
I also had my car serviced today. Something has been lighting up on the dashboard, and it's either the brakes or the oil. Or something else. LOL!!! Well, suffice it to say that it must be important, so I had to bring it to the...umm...car place. Teehee! Mr. S gets really frustrated with me because I know nothing about my car except to drive it. And I have to admit, it's true. Hahaha! But don't get me started on talking about my driving. I tell you, I'm a maniac on wheels. LOL!!!
Ok, on to scrappy stuff!!! First, let me show you my June prize kit for RAKScraps...Loops-a-licious!
Isn't it cute?!?! I just adore how it turned out, and I hope y'all like it too. I had way too much fun making it. I just love the loops, and because it reminded me of candy, I thought the name was befitting. So if you like it, come on over to RAKScraps and join in on all the fun! And if you missed out on any of my past kits, most of them are now available at the Day Old Donuts at
Scrapdish
. All proceeds are used to maintain RAKScraps, and we all *heart* RAKScraps! LOL!!!
Oh! I did manage to make a page using my own stuff!!! I told you I've never done that before, but I decided to use my Schweetschtuff kit for the scraplift challenge for
Robin
's sweetNsassy team. This is a scraplift of Tracie's laughter layout at 2peas. Here, lookee!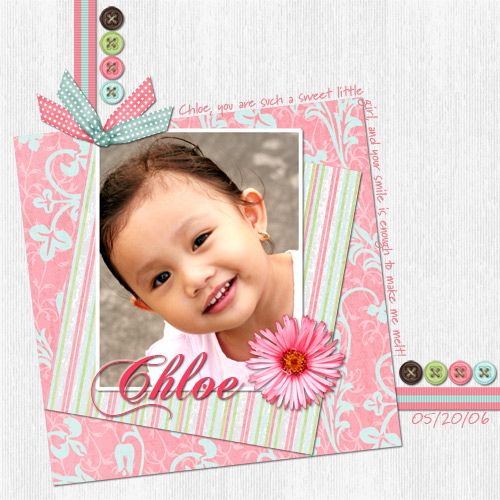 Credits:
Everything from my own Schweetschtuff kit, now available at Scrapdish!
It's in the Day Old Donuts to help out RAKScraps!
Lately, I've been changing my scrapping style a little bit. I've really been admiring some layouts I've seen at some sites and have been trying my hand at doing it. What can I say, but I totally totally LOVE it! It's more freestyle, I think, but I still put some clean lines on them. Ok, lemme show you the pages I've done the past few days using this style.

Credits:
Amy Knepper's Baby Blanket Collection-Girl at Scrapdish
staples and polkadot bow by Ronna Penner at SBE; string by Jackie Eckles at DD; chipboard alpha by Dani Mogstad
Fonts: Chelpress, Elegant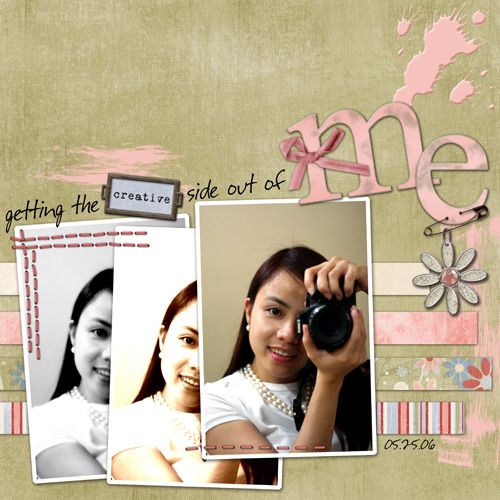 Credits:
Michelle Coleman's Simply Spring mini kit (blog freebie) for all papers and the charm
pink ribbon by Jackie Eckles at DD; pin by Fernlili; artstitches by Fhung Lie at SBB; bookplate by Shabby Princess; brushstrokes by Meredith Fenwick at SBB; paint splatters by Katie Pertiet at DD; Atomic Cupcake for the chipboard action on the alpha
Fonts: Festus, VT Portable Remington, Times New Roman
I dunno, but I really like it. What do you guys think? And I get really challenged to find the elements from all over the place. I used to work with mostly just one kit for a layout, and usually just use a lot of papers and ribbons. But I'm going out of my comfort zone and having fun! I love getting all the little knick knacks and putting them together. I think that's what's more important, eh?
And with that, I shall say goodnight! I hope you all had a wonderful weekend, and I wish you a fabulous week ahead. Ciao, bellas!