at last, time to post!
Wednesday, July 19, 2006
I don't even know where to begin. I think saying THANK YOU to everyone who left their well wishes in my previous post is a good start. You guys are just the sweetest, and all your messages just gave me the warm fuzzies. Thank you! Thank you!
Remember my grandfolks' diamond wedding anniversary? It was on the same night that we found out. And T-Wan, if you're reading this...No, I didn't sing. LOL!!! I managed to get myself out of that sticky situation. My mom ended up being too busy organizing everything, and I had asked a good friend to sing instead.
Things have been sooo amazing since we found out we were pregnant. I was on Day 40 of my cycle when we finally decided to take an EPT. My cycle is really wierd, and with my longest cycle at 39 days, I figured that Day 40 would be THE day to take the test. I didn't really think I was pregnant, but of course, as each day passed, I couldn't help but keep hoping. But I didn't really feel any different, and I still had PMS -- cramps, tender b00bs, etc. I was also really stressed that week, and I figured that's the cause of the deley.
Anyhoo, it turned out to be the day of my grandfolks' wedding anniversary. It was also the day before Mr. S left for the US for some work stuff. Might as well know what's going on before he leaves. On the way home from the wedding, Mr. S and I passed by the drugstore where I told him to buy 3 packs. LOL!!! Hell, I wanted to be sure I did it correctly! We told ourselves that we would do it when we woke up the next day, since I read that it was best to use first morning urine to test. But when we got home, I was so restless. I mean, I had the EPT in my hand!!! It was like getting a birthday gift a week before your birthday. You just HAVE TO open the gift! And so we decided to take the test that night.
I remember reading the instructions over and over again. I had all the stuff I needed to do the test. With a final squeeze of the hand, Mr. S sent me off to the bathroom to do my thing. I remember entering the bathroom with a little bit of trepidation and a little bit of excitement. And when finally, two pink lines appeared, I went blank. Two lines??? What did two lines mean?!?! LOL!!! And when I finally emerged from the bathroom, Mr. S was waiting for me with an expectant look on his face. And to finally say "We're pregnant!"....was just bliss. Ok, so after that, I was squealing like a pig, but that's hardly romantic, so I'm leaving that out of my story. LOL!!!!
After getting a positive on our ept, I didn't feel any different at all and it was hard to believe I actually was pregnant. I had no morning sickness at all. My b00bs hardly felt tender. Oh, but I was
extremely
sleepy all the time. When all you have are two pink lines to prove you're pregnant, and especially when you want it SOOOO bad, sometimes you tend to doubt, you know? I mean, what if the ept was wrong? But when we went for our first TV ultrasound last July 16 and finally saw OUR BABY, there was no denying it. We were truly pregnant. *sigh* God is good.
You want to see our little Peanut?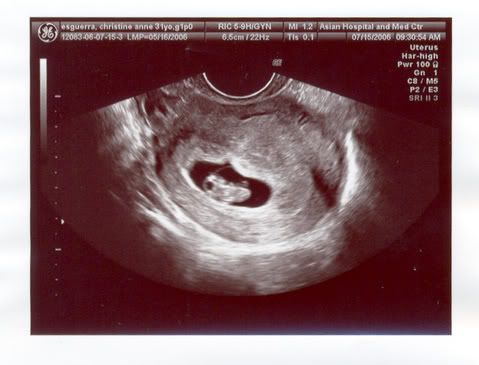 Isn't he a cutie? And doesn't he look like me? LOL!!! I keep telling Mr. S that he has my nose. And of course, Mr. S keeps telling me I'm brain-damaged. LOL!!!! We call him Peanut, because he's about as big as a peanut in his first baby pics. And if you noticed, I keep saying he or him or his. We're hoping for a boy, but will be happy with any healthy baby that is given to us. But it wouldn't hurt to give little hints eh? LOL!
I've also been blessed that Mr. S is such a sweet and supportive tub of lard. If I was spoiled before, I am even more so now. HARHARHARHARHAR!!! About two weeks ago, I felt like eating green mangoes and told him so, and without even blinking an eye, he went out at 8pm to get me some. Last week, I felt like eating guavas, and when I got home from work, I already had two. Yesterday, I was watching the telly and saw this lady eating a hotdog sandwich, so I said I wanted one. And sure enough, he went out and got me a Jolly hotdog. Then when I woke up this morning, I told him I wanted McDonald's big breakfast, and off he went to get it for me. Is he the sweetest or what?!?! Of course, he tells me I'm a spoiled pregnant woman, and I keep telling him he has more than 6 months to go. LOL!!! But he's even sweeter when he talks to Peanut. Ok, so he is talking to my barely there baby bump, but the thought is sweet. And so he does say silly stuff like how he hopes Peanut doesn't get his mom's fat ass, but yeah....it is sweet. Dysfunctional maybe, but sweet nonetheless.
If there is one thing I can and will complain about, it is that I have been forbidden to wear my purty, purty shoes. As you guys know, I loooove my shoes. But all my shoes have practically 3-inch high heels. Since finding out we were pregnant, everyone (and I mean, EVERY ONE!) has been giving me the third degree about my shoes. And so now, all my beeeeyoootiful shoes are in storage. *sniff* *sniff* Ok, so I did get to go shoe shopping (I have no flats at all!) but do you know how "fun" it is to shop for flats?!?! It's as exciting as a loaf of bread, I tell ya. I was able to buy 3 flats, and they will have to do for the next 6-7 months.
Before I go, I'd like to share a page I finally finished. It's my first baby page, and I'm so excited because it will go into a baby album that I'm making for Peanut. Again, many many thanks to everyone who sent their well wishes, and I will try and continue to update you on Peanut's growth. Hmmm...I may have to change Peanut's name as we go farther along on this pregnancy too. LOL!!!
Ciao, bellas!!!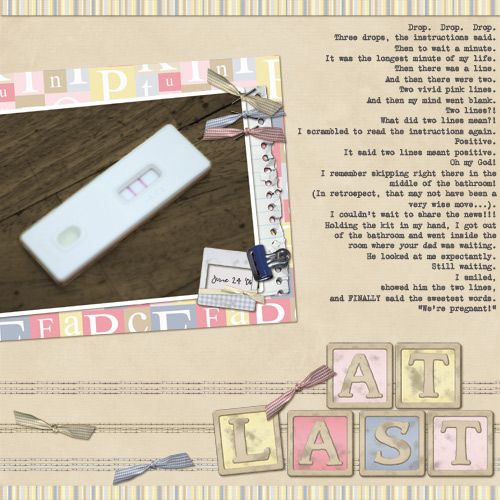 Credits:
ABC Baby from Robin Carlton & Christy Lyle's Expecting Sweet Stuff collection at SSD
binder clip by Katie Pertiet at DD, notebook paper by Tia Bennett at DD, staples by SP
Font: VT Portable Remington