i'm back...
Monday, November 28, 2005
...and raring to go!!!
Well, the conference is finally over and done with. I am happy to say that it wasn't as bad as I initially thought it would be. So yeah, I did work my ass off every single day. Yeah, our day started early and ended late every single day. Yeah, it wasn't like I could rest at night because I still had to do my homework for the next day. But it was all good! First off, it still turned out to be an absolute gastronomical orgasm. I swear, every meal was heaven and I ate sooo much that even Mr. S commented that my ass grew in five days. LOL!!! And I've also gained so much professionally that I can't wait to go to work tomorrow and start on some of the stuff I've learned. Amazing, isn't it? But more importantly, I think, I made some really good friends over the past five days. Now I know that I can go and visit Singapore, Malaysia, China, Taiwan, Thailand, India and Indonesia and know that I have friends to see. Oh yeah, it was all good alright!
And NOW! Let me just share with y'all that Mrs. S got herself a new toy...my Canon Digital Rebel XT! Wooohooooo!!! Yep, got my baby last Thursday, and I have been tinkering with it since Friday night when I got home from the conference. Man, it is an absolute delight!!! I've always had the point-and-shoot kind of camera before, so this is my first dive into SLRs. No matter, because I am learning so much! And even on full auto mode, I am able to take fantastic shots! This morning, I tried using some of its other creative modes and it's just amazing how different the same shot comes out to.
Here are some photos I took over the weekend. You may want to click on the images so you can get a bigger picture and see its awesome clarity.
Not bad eh? LOL!!! Even Mr. S is impressed (with the camera, not with me...LOL!). Which is good because he "donated" to the Help-Mrs.S-Get-A-New-Camera fund and was critical to its early success. Now I'm setting up the Help-Mrs.S-Get-A-New-Lens fund. LOL!!! I can't wait till Chloe visits us so I can take tons of photos!
Ok, so it's back to scrapping for me. I got Tania's and Robin's latest kits and am so looking forward to making layouts again. Maybe when I get some pages done today, I could post it here for y'all.
Unless I get distracted by my new baby again. LOL!!!
mrs. schmuck | 1:53 PM |

i'll be gone for a week
Sunday, November 20, 2005
I am so not looking forward to the week ahead. I will be in a conference the entire week, and whereas I would usually welcome these times away from the office, sadly not this time. This is going to be work, work, work. And more work. Did I already say it was going to be more work? Our day starts at 8am and ends at 7pm. Every. single. day. There is also dinner with the entire group every night, and dinners like these are usually not as social as you'd like. There will definitely be talk of work throughout the evening, and it just totally ruins what would have been a gastronomical orgasm that is dinner.
And yes, it does mean absolutely no scrapping the entire week. *gasp* And most probably no net surfing as well, because I would be too brain-dead to even know how to turn on my puter. *double gasp* Can somebody just pull the plug and kill me please?
Alright, so I think that's enough melodramatics for one post. LOL!!!
YAY for Blogger!!! It has
finally
agreed to let me show off my recent layouts. I decided not to post all the layouts I had previously planned on showing, because then this post would just go on and on and on like the Energizer bunny. Although I love that fuzzy pink bunny, I would just gladly direct you to my webshots account (link in the sidebar, please) where they all are, credits included in case you'd love to go kit shopping.
Here are the latest ones I did for Robin.
Credits:
Robin Carlton's Feels Like Home kit at The DigiChick
Fonts: Sloop Script Two, Vintage Typewriter
Program used: Photoshop CS2
Robin's
Feels Like Home
kit is another winner! I thought this one was different from Robin's past kits, which just shows her versatility in designing. I had real fun making this layout of Chloe, and I also tinted the photo so that the entire page went well together. It's also the first time (ever!) that I used one of those tabs, and wow, I think I'll be using them quite often now. LOL!!! I'm really more of a "paper" scrapper (in the digital sense) and I use elements sparingly, unless I find some that are quite unique.
Credits:
Robin Carlton's It Girl paperpak at The DigiChick; stitching from Ronna Penner's Essential Notions: Decorative Stitching I; chipboard effect by Atomic Cupcake
Font: MA Sexy, Vintage Typewriter
Program used: Photoshop CS2
Would you just look at how adorable Chloe is in this layout?!?! She's a natural, I tell you! I used Robin's latest, which is
It Girl
. Loooove the colors and the patterns in this paperpak! Plus it comes with several ribbons and a couple of bows, which I just love to use!
On to more good news!!! I am yet again part of another creative team. Woohoo! I was bloghopping one night, and I headed over to Tania's (Lunafaerie) to see what was going on in her corner of the world. Lo and behold, I saw her post for a creative team call. I was emailing her faster than you could say schmuck! LOL!!! I have always admired Tania's kits, and look forward to her prizes and RAKs in RAKScraps.
So here's my first layout using Tania's kit Funky Bunches.
Credits:
Tania Cordova's Funky Bunches kit at Digital Freebies
Font: Vintage Typewriter
Program used: Photoshop CS2
Would you just look at how adorable Chloe is in this layout?!?! Ok, so I also said that in the previous layout, but c'mooonnn! She IS adorable! I remember just clicking and clicking away on my camera, when Chloe suddenly turned and ran towards me with that huge look of delight on her face. Perfect photo moment captured! And isn't Tania's kit gorgeous??? Love the color combos and the epoxy alphas!
Ooh ooh ooh!!! I can't believe I actually bounced up and down on my chair as I typed that. LOL!!! I don't want to pre-empt anything, but but BUT!!! Watch out for my next few layouts. Oh shit. I'll be in the conference this entire week! Ok, so you'll have to wait till the week after. Crap, and I was so excited to show you! Well anyhoo...I'm sooo excited because by then, I would already have....
ETA:
Oopsies! Speaking of the devil (or faerie, for that matter), got tagged by Tania. LOL!!! I'm going to add this to my post before I go to that dang conference.
2 names you go by
Tin
Mrs. S
2 parts of your heritage
Filipina
very teeny tiny Spanish (I think my toe is Spanish...)
2 things that scare you
cockroaches
not having my own kids
2 of your everyday essentials
coffee
internet access
2 things you are wearing right now
my newest pair of thongs (with little red striped ribbons...LOL!)
my trusty Levi's
2 of your favorite bands or musical artists (at the moment)
Kelly Clarkson
Green Day
2 favorite songs (at the moment)
My Humps by Black Eyed Peas
Mr. Sun by Barney (yes, the purple dinosaur...you did say at the moment)
2 things you want in a relationship (other than real love)
sense of humor
amazing sex (LOL!!!)
2 truths
I sometimes snort when I laugh.
I stole my classmate's froot loops during recess when I was in Grade 1.
2 physical things that appeal to you (in the opposite sex)
cute butt
kissable lips
2 of your favorite hobbies
digiscrapping
shopping (LOL, what a hobby!)
2 things you want really badly
get pregnant
a digital rebel XT
2 places you want to go on vacation
Boracay (nothing beats this!)
Costa Rica (i read that bungee jumping is awesome there)
2 things you want to do before you die
bungee jump
be rich (LOL!)
2 ways that you are stereotypically a dude/chick
PMS
I giggle.
2 things you are thinking about
the conference that starts tomorrow
all the work at the conference that starts tomorrow
2 stores you shop at
Nine West
Levi's
2 people i would like to see take this quiz
TracyB
Jacq
mrs. schmuck | 4:53 PM |

bad blogger!!! bad blogger!!!
Tuesday, November 15, 2005
I've been neglecting my blog lately. It's been a week since I last posted something in here. Tsk...tsk...the poor thing.
Work has been driving me crazy since last week, and its timing couldn't have been worse. RAKScraps celebrated their 1st birthday last week, and there was one helluva RAK-a-bration going on! There were so many challenges and contests and chats, and LOADS of freebies!!! I didn't get to participate in a lot of the activities because of work, which is really a bummer. But still, I managed to join just three, I think, and snagged some prizes too. LOL! What's so cool is that I think I got the most awesome prize of all...a RAKScraps tee! Robin just sent me an email today that shipping it to me won't be a problem. Woohoooo!!! Can't wait to get it and show off! LOL!!!
Not much layouts being produced here. Again, work is the culprit. I get home late and brain-fried, so the creative juices have totally evaporated into thin air. I'll also be in a conference the whole of next week, so I have to make sure everything is in order with my team before I go. It looks like things are going to be real hectic for the rest of the month. *sigh* I am so in need of a holiday. A loooong one.
Ok, I gotta end this here.
House
is showing in a few, and I need to find a warm and toasty spot on the bed before it starts. Do any of you guys watch this show? Darnation, that Hugh Laurie totally ROCKS!!! He's such an asshole for a doctor and I love it! But jeez, if he were my doctor, I'd be torn between killing him and ravishing him on my hospital bed. LOL!!!
Again, I would've left you with some of my latest layouts, but as I've realized and learned by now, Blogger can be a real prick and decide to totally ignore my humble request to show off.
Maybe tomorrow.
Then again, maybe not.
mrs. schmuck | 9:21 PM |

putting a dent on the Christmas list
...ok, so it's just one dent!
Monday, November 07, 2005
I finally started on my Christmas shopping. HA! Well, to be totally honest really, I just bought one gift. But hey, that's one name crossed out from my Christmas list. LOL! That definitely counts for something.
I am terribly terribly excited with the first gift I bought, because it's Mr. S's Christmas gift. Oh, I just KNOW he's going to love it!!! He's been bugging me to get him one, and I keep putting him off because it is quite expensive. But I could never resist my porkchop of a hubby, so today, I finally bought it for him...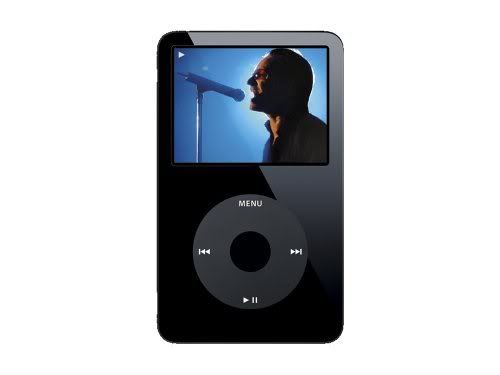 It's the new one, which has 30GB of memory and can take in 7500 songs, 20000 photos and 75 hours of video playback. Too cool!!! You think he'll mind if I give it to him, and say "Merry Christmas, Porky! Can I borrow it?" LOL! I can't wait till it gets here and I give it to him. I don't even think I can keep it from him for long. I'm so terrible at keeping surprises. Anyhoo, he will be soooo pleased! I reckon this'll give me sex every night too. BWAHAHAHAHA!!!!!
On to more important things...MY OWN Christmas list. hehe! I am absolutely drooling over this...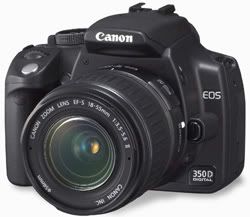 aaahhh...the Digital Rebel XT! It's name alone sends shivers up my spine. I'm trying to see if Mr. S is willing to give this to me as his Christmas gift. Who cares if it costs 3x the iPod! LOL!!! Oh but, Santa, please please please!!!
Hey, I don't think I've shared this here, but I'm part of another creative team! When it rains, it pours!!! The invitation came at a time when my puter was going berserk, so I couldn't formally accept the offer and announce it yet. But my puter has since recovered, and so I'm now officially part of
Younique Photos
creative team. Woohoooo!!!
I was really surprised (and pleased beyond words!) when Lynnie Smith sent me a private message at RAKScraps, saying wonderful things about my layouts and inviting me to be part of her team. Her designing style is quite different from Robin's, and this excites me because I feel that my creativity will be enhanced as I work on their different styles.
I've done several layouts using Lynnie's kits, a double up kit of Robin and MandaBean, and some other stuff that I wanted to share, but Blogger is being a pain in the ass again. Does this happen to anyone else??? I upload images, and it says it has succesfully done so, then it won't give you the tags? It's damn frustrating! WTF!?!?!
Oookay, I definitely need my ZZZZs.
mrs. schmuck | 9:28 PM |

incoherent yakking going on
Tuesday, November 01, 2005

I am a pig. Seriously. You know what I did today?

When I woke up, I ate.
Then I ate some more.
Then I ate even more.
Then I slept.
When I woke up, I ate.
Then I ate again.

Now I'm here in front of my puter, and plan to sleep in a few. Holy crap! If my ass doubles itself, it's my own doing. But then you know, I don't have much of an ass to begin with, so it's doubling is probably a good thing. LOL!

I go back to work tomorrow, which is really irking me. *sigh* After the long weekend (Monday and Tuesday being declared as holidays), it's kinda silly to be going to work just for two days (Friday being declared as another holiday). I seriously hope the next two days won't be so busy at the office. Sometimes things get so hectic and it makes me want to tear my hair out of their roots.

Have any of you started on your Christmas shopping yet? It's November 1 and I haven't started on a single thing. Of course, the fact that I don't have any money now accounts for a lot. But hey, hey, HEY! Christmas bonus comes in on Thursday! Woohoooo!!! I'm thinking of being a real scrooge this year. I am seriously considering buying a new camera, so I'm planning on setting aside a big chunk of my bonus for that. We shall call it...the Help-Mrs.S-Get-A-New-Camera fund. LOL! Maybe I can get Mr. S to sponsor some funds...

Ok, I'm rambling. Incoherently. I think that's a sign that I must end this and get some sleep. Like I haven't had enough of that today.

Pig signing off...
mrs. schmuck | 9:33 PM |